Squid Ink Pasta with Prawns
Having made and we wanted to master squid ink pasta.
We got a sachet of squid ink from the local fishmonger. When we were making our fresh pasta and at the combining the eggs stage, we added in the ink.
We then worked it as normal until the pasta was no longer marbled, but a strong, glossy black.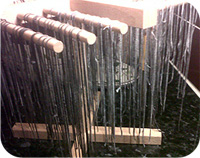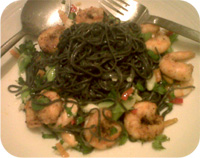 There was quite a strong seafood aroma to the pasta so we decided to serve it with jumbo king prawns. We stir fried garlic, chilli, red pepper and spring onions and added the prawns.
Meanwhile we cooked and drained the pasta before adding it to our prawns with extra oil.