Quorn Chicken with Herb Tagliatelle
To get this colour and texture to our pasta we added some mixed dried and fresh herbs at the kneading stage. Also see our .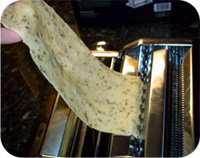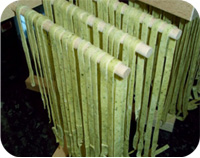 To serve with it we made a tomato sauce with onion, garlic, herbs, tomato puree, tinned tomatoes, sugar and seasoning.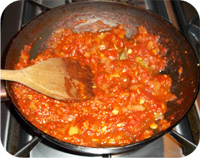 We stir fried chicken pieces (Quorn) in some butter and added in some pistachio nuts before adding cream which we had reduced down by half.
We cooked our herby tagliatelle and spooned over the tomato sauce and arranged the chicken sauce on top with a few more pistachios and fresh basil.
Search Cook Nights Recipes

Recipes by type:
Recipes by ingredients:
Recipes by Country: