Leek & Prawn Pie
We reduced some white wine in a pan. In another pan we softened 3 thinly sliced leeks in some butter. We added cream, then the reduced wine and simmered for 10 mins. Once thickened we added lemon zest, lemon juice, chives and seasoning and set it aside.
We lined a baking dish with rolled out puff pastry (shop bought) which we pricked the base of. We let it chill for 20 minutes in the fridge before blind baking it in a hot oven for 5 mins.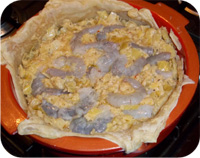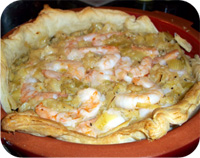 We put all of the leek mixture into the puff pastry and layered on some raw jumbo king prawns. The we baked it in the oven for 10 mins or until the pastry was cooked.
We served it with our .
Search Cook Nights Recipes

Recipes by type:
Recipes by ingredients:
Recipes by Country: