Cheese & Leek Croquettes
We fried off some thinly sliced leeks in some butter and worked in some flour before gradually adding some milk. We sprinkled in some grated cheese and nutmeg into the mix.
We took it off the heat, covered it and left it to cool. Once pliable we rolled them into croquette shapes, dusted them in flour, dipped them in beaten eggs and rolled them in breadcrumbs.
We let them chill in the fridge for about 20 mins before deep frying them for 4 mins.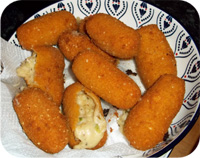 We served these alongside our .