Spicy Pasta Flowers
This little creation was Despinaki's idea (and no she wasn't drunk at the time!). An impressive , it was a bit futtery but fun to make and delicious to eat.
We cooked some large penne pasta until al dente and set it aside to cool. We made a tomato sauce using passata, finely chopped onion, some fresh basil and a lot of red chilli (one whole chilli) and let it reduce.
For the cheese sauce we warmed some soft cheese in a pan and added chunks of Dolcelatte cheese and stirred until it was all meted together.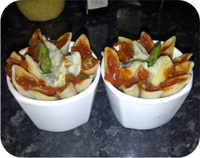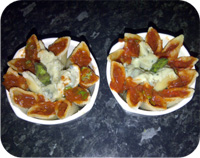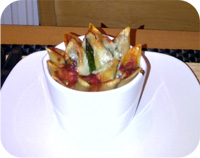 We stuffed the ramekins with as many pasta tubes as we could, trying to keep them all standing up. We then carefully poured the cheese sauce into the middle tubes and the tomato sauce into the surrounding tubes until they were all full.
We had a couple of spears of left from our starter, so we halved them and poked them into the middle (of the flower).
We then drizzled over some quality olive oil before baking them in the oven for about 30 mins.
The tops of the quills went lovely and crispy whereas the rest of the pasta was soft and moist. And the burst of flavours of the different sauces/fillings was amazing.