Asparagus & Parma Ham
The British crop of asparagus this year has been really disappointing. But Babs & I love this veg so Babs decided to treat us to some anyway (from Peru I think).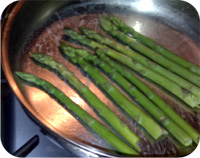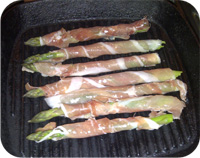 We blanched the spears and let them cool before wrapping them individually in slices of yummy parma ham. We then brushed them with oil before searing them on a hot griddle pan for colour.
This is a classic taste combination of fresh seasonal asparagus with the saltiness of the parma ham.
Search Cook Nights Recipes

Recipes by type:
Recipes by ingredients:
Recipes by Country: