Homemade Oatcakes & Chilli Pâté
Babs was going on holiday so we wanted to do something easy which would give us more time to chat. We had some left from a previous cook night so we thought we'd make oatcakes again to go with it.
We used medium oatmeal and combined it with some salt, freshly ground black pepper, some olive oil and gradually added enough boiling water to bring the mixture together into a smooth dough.
We then rolled it out to about 5 mm thick before cutting into shapes. We then baked them in a preheated oven (180ºC) on the middle shelf for 12-15 mins (or until firm).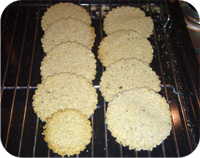 We let them cool on a wire rack before serving with our delicious homemade pâté and a mixed salad.