Cheesy Flatbread
We mixed together 250g self raising flour with 250g low fat yoghurt, half a teaspoon of baking powder and a good pinch of salt. We worked it into a dough, let it rest for about 20 mins, then flattened out into some rough oval shapes.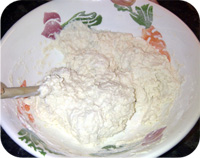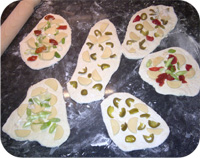 We topped them with pieces of smoked Bavarian cheese, some spring onions and some red and green jalapeno slices.
We then baked in the oven at 180°C for about 15 mins until the cheese was bubbling and the bread was almost like a naan consistency.
We served it with our .
Search Cook Nights Recipes

Recipes by type:
Recipes by ingredients:
Recipes by Country: