Chorizo & Prawns
We blended an onion, some jalapeno peppers and garlic which we then fried in some olive oil before adding a tin of chopped tomatoes. We added some mixed dried herbs and salt and black pepper. We fried some chorizo slices until they took on some colour and then added them to our yummy sauce.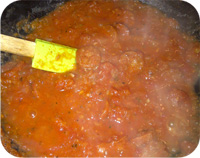 We let the mixture reduce over a low heat for over an hour. We then fried off more chorizo slices and added them in, so that we would have different textures of chorizo. At the last minute we added a few raw (de-veined) jumbo king prawns and stirred until they were cooked through.
We served it with a dressed salad and warm .
Search Cook Nights Recipes

Recipes by type:
Recipes by ingredients:
Recipes by Country: