Sweet Danish Pastries
To follow on from our , we made a couple of small sweet ones.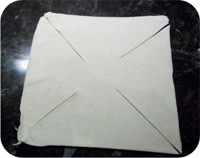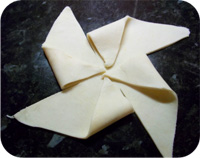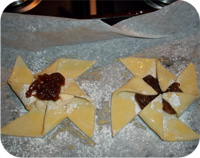 We cut out smaller squares (about the size of coasters), and made cuts from the edges nearly into the middle.
Fillings
The filling was Philadelphia cream cheese (with sweet chilli) and apricots soaked in amaretto. We put a good spoonful of cheese into the middles and on one we topped it with the apricots before folding in alternate corners to make a pinwheel shape. On the other we folded the corners in then topped it with the apricots.
We then brushed them well with egg wash and baked them in a pre-heated oven at 200°C for about 15 mins until golden brown.