Savoury Danish Pastries
We've made savoury puff pastries before, but this time we wanted to make more of a visual impact. We rolled out a packet of puff pastry and cut large squares.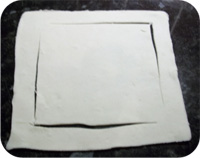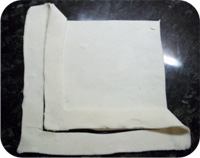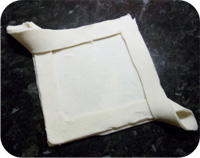 Then we cut slices in the pastry ensuring we kept two of the corners intact. Then we simply folded over the free ends to overlap the edge of the inner square. Perfect, pretty Danish pastry shapes. We made four large ones in total.
Fillings
We made several fillings for our Danish pastries. One was minced lamb cooked with chilli, garlic, ginger and a hoi sin sauce (which filled two pastries). Another was thin slices of salami topped with shallow-fried thin slices of black pudding, sprinkled with spring onions on chillies (which also filled two pastries).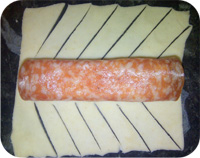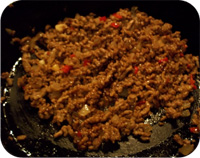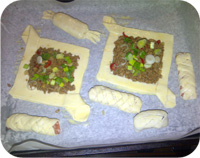 We had some pastry left over so we wrapped some of the remaining salami around batons of smoked applewood cheese and placed them on smaller rectangles of pastry. We cut slits down either side and folded them over alternately to make a pleat effect. We then brushed all of our pastries with egg wash.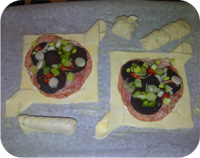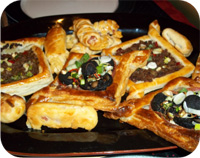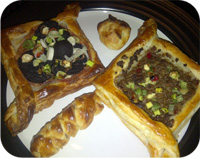 They were then all baked in a pre-heated oven at 200°C for about 25 mins until golden brown.