Beef Stroganoff with Tagliatelle
Despinaki was just back from holiday so Babs (the genius) decided on the recipe. We had some in the freezer from a previous cook night which we made into tagliatelle. We put a little oil in a pan and softened off some sliced onion, sliced yellow and red peppers, sliced mushrooms and thin strips of beef.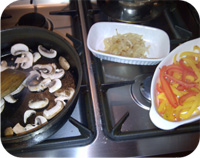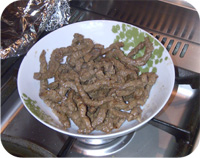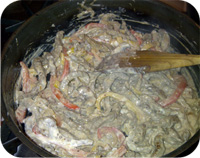 We added it all back to the pan and added a splash of white wine, a good spoonful of whole grain mustard and worked in some Philadelphia Light until it was a lovely creamy consistency.
We boiled our pasta for about 4 mins and drained it and added it to the mixture. We combined it all together thoroughly before serving on warmed dishes.
Search Cook Nights Recipes

Recipes by type:
Recipes by ingredients:
Recipes by Country: