Tagliatelle Carbonara
We made our own pasta from scratch. Our basic pasta recipe (serves 4): 16oz Pasta Flour; 3 large fresh eggs; pinch of salt. That's it.
Put the flour onto a worksurface and make a well in the middle, break in the eggs and cover the yolks with a good pinch of salt.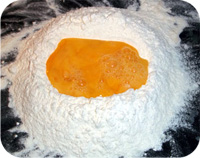 Gently bring the mixture together using a fork and working from the inside out. Once it comes together, knead vigorously for 15 mins before leaving to rest for 20 mins wrapped in cling film in the fridge.
We then rolled out the pasta dough with an empty wine bottle (note to Babs: we must invest in a rolling pin!) Once a few millimetres thick we folded in over a few times and cut the tagliatelle into strips. The carbonara sauce was a challenge too, but turned out to be the best one I'd ever made.
For the sauce we fried a thinly sliced onion in some oil before adding garlic, bacon strips and mushrooms and kept them warm. We mixed 1/2 pint of cream with 3 beaten eggs and some parmesan cheese and seasoning.
We boiled our fresh tagliatelle in slightly salted water for about 4 mins before draining and adding to the bacon/mushroom mixture. We then quickly poured over the egg mixture and tossed it all together before serving with extra parmesan.