Salmon Tagliatelle
Santa brought Babs a pasta machine on Christmas day which was a lovely surprise! Having triumphed in making pasta by hand this was going to make pasta cook nights so much easier and give more time for wine!
So our basic pasta recipe (serves 4): 16oz Pasta Flour; 3 large fresh eggs; pinch of salt. That's it. Put the flour onto a worksurface and make a well in the middle, break in the eggs and cover the yolks with a good pinch of salt. Gently bring the mixture together using a fork and working from the inside out. Once it comes together, knead vigorously for 15 mins before leaving to rest for 20 mins wrapped in cling film in the fridge. However, if you have a pasta machine, just knead for a few minutes before resting and passing it through the machine a few times will do the same job.
We then used the tagliatelle setting for perfect strips of pasta. Santa even gave Babs a pasta drier (and assembled it!) for us to hang our fabby creations on. He really earned his cookie and glass of milk!!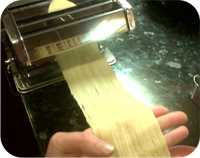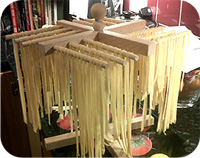 Arms tired from all that handle turning led us to just simply boil the pasta for a few minutes before draining and tossing together with soft cheese and smoked salmon flakes.