Stuffed Squid
We both love calamari and fancied doing something a bit different with it.
So we browned some pork mince with onion, garlic and chilli and stuffed it into the squid tubes (held snazzily together with cocktail sticks). You should have seen Mr Babs' face when he saw our little aliens!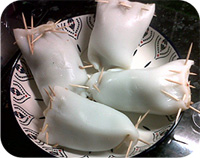 We then seared the squids on a hot griddle pan for a couple of minutes each side and we made a rich tomato sauce to serve over it.
Search Cook Nights Recipes

Recipes by type:
Recipes by ingredients:
Recipes by Country: