Spinach and Ricotta Ravioli
We used our homemade pasta which we cut into round ravioli shapes. We filled them with spinach and ricotta cheese and served with a hot butter and sage leaf sauce.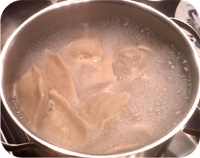 While the pasta was cooking, we melted butter in a pan and cooked until golden brown in colour ("noisette"). We added sage leaves and removed from heat and added lemon juice.
Search Cook Nights Recipes

Recipes by type:
Recipes by ingredients:
Recipes by Country: