Singapore Spicy Noodles with Quorn
Using our homemade pasta noodles (fettuccine), which we boiled for just a couple of minutes before draining.
We heated some oil in a wok and fried some garlic and chilli with Quorn chicken pieces until browned.
We then added an onion and a red pepper and cooked until just beginning to soften, then added spring onions, piri piri and cajun spices and cooked for a minute.
We then added the bean sprouts and noodles and tossed everything together.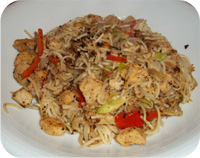 Search Cook Nights Recipes

Recipes by type:
Recipes by ingredients:
Recipes by Country: