Seafood Stew
This delicious seafood stew was made from a base of onions, garlic, chilli and passata which was reduced to a thick sauce.
We then added pieces of haddock, smoked haddock, cod, salmon, some mussels, calamari (squid) and king prawns.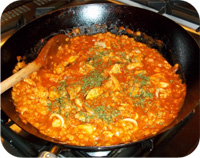 Then we let the seafood cook through and added some parsley before serving with crusty bread.
Search Cook Nights Recipes

Recipes by type:
Recipes by ingredients:
Recipes by Country: