Polka Dot Ravioli with Lamb Filling
It had been a while since we made ravioli and we fancied trying something different. We used 2 colours of pasta dough (1 white & 1 black). We rolled the white pasta through the pasta machine until a few millimetres thick. We then added small pea-sized ball of the black pasta on the surface before passing it through the machine again until it was at its thinnest setting.
What we thought would turn out as polka dots actually ended up being more like random splodges. But hey it was our first attempt.
We cut out our ravioli circles and covered them to stop them drying out. Our filling was minced lamb cooked with onion, garlic, chilli and some black bean sauce.
Once it was cool, we spooned small portions of filling onto the discs and sealed them.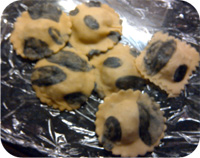 We then boiled the ravioli in lightly salted water for about 5 mins. We drained them and served with a simple tomato sauce and left over filling.