Mini Pizzas
We have made flatbreads in the past but never attempted pizzas. So now was the time with these tasty mini ones.
For the dough we sieved 500g strong white bread flour and put it on to a clean work surface and made a well in the middle. In a jug, we mixed a 7g sachet of dried yeast, half a tablespoon of caster sugar, half a level tablespoon of fine salt and 2 tablespoons of extra virgin olive oil into 325ml of lukewarm water and left it for a few minutes.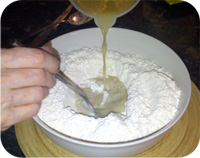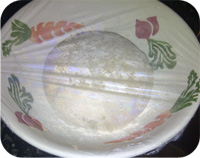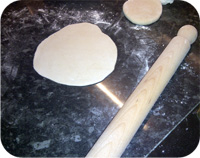 We then poured the yeast mixture into the well. Using a fork, we brought the flour in gradually from the sides and swirled it into the liquid. We kept mixing until it all started to come together. We then worked the rest of the flour by hand and kneaded until it was a smooth, springy dough.
We placed the ball of dough in a large flour-dusted bowl and floured the top of it. We covered the bowl with cling film and placed in the warmest part of the room for about an hour until the dough doubled in size.
We removed the dough to a flour-dusted surface and kneaded it around a bit (knocked it back) to push the air out with our hands. We divided the dough into 4 pieces and wrapped 3 in cling film and put in the freezer for another time. We divided the remaining dough into 2 little balls.
We then rolled the dough out into rough circles, about 0.5cm thick.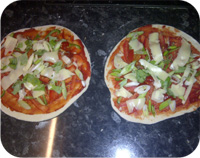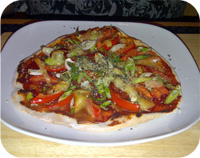 For the topping we spread a thin layer of tomato purée onto the base and scattered sliced red pepper, spring onions, green chilli and red jalapenos over them. We layered over some very thin slices of Bavarian smoked cheese and some fresh basil leaves. We then baked them in the oven at 180°C for 15 mins.