Pasta Puttanesca
In Italian, a puttanesca is a 'lady of the night' and this sauce is hot, strong and full-bodied. One of the reasons we fancied making it!
We blitzed together about 50g green pitted olives, 75g drained anchovies, garlic, red chilli, 1 heaped tablespoon drained capers, and a few chunks of peppers.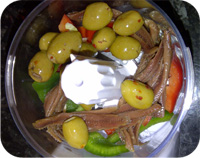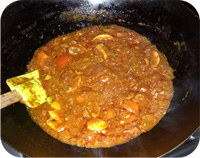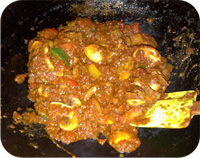 To make the sauce, we heated olive oil in a wok, then added the paste we'd made. We added a tin of plum tomatoes and some tomato purée. Turned the heat to very low and let the sauce simmer gently for about an hour. We added in some chopped red, green and yellow peppers and sliced button mushrooms for texture. After the hour the sauce had reduced to a lovely thick mass.
We made tagliatelle from some of our homemade pasta. Which we cooked in salted boiling water for about 5 mins. Meanwhile we added raw jumbo king prawns to our sauce and stirred until cooked. We then drained the pasta and added it to the sauce ensuring it all got coated well.
We then served it with some garlic bread.