Haggis Pakora and Roasted Vegetables
We had roast julienne potatoes, carrots and swede as our neeps and tatties. We tossed them in parmesan cheese and chilli flakes and roasted them in a little oil for 20-30 mins, until tender.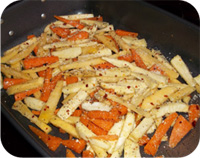 The pakora batter was gram flour, salt, paprika and cumin mixed with water until smooth. We then shaped some haggis pieces together with spring onions and some oyter sauce before dipping in the batter and deep frying for 5-6 mins.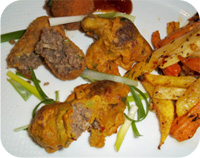 Search Cook Nights Recipes

Recipes by type:
Recipes by ingredients:
Recipes by Country: