Empire Biscuit Christmas Tree
Our Christmas dessert was this stunning empire biscuit Christmas tree. For the biscuits we blended soft butter with caster sugar until creamed. We gradually added plain flour until we had a dough like consistency. We then rolled it out and cut out different sized star shapes. Which we cooked in a preheated oven (180ºC) for 18-20 mins. We let them cool on a wire rack before decorating.
We dusted each star with icing sugar and assembled the tree. We used strawberry jam as glue between layers. We made little jammy baubles for the ends and drizzled over some icing. Very Christmassy!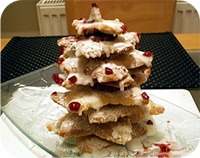 Search Cook Nights Recipes

Recipes by type:
Recipes by ingredients:
Recipes by Country: