Empanadillas - Pastries
We cut out circles of rolled out puff pastry and put our fillings in the middles. We folded the pastry over and brushed them with beaten egg yolks. Then we baked them in the oven at 200°C for 15 mins.
Fillings
We shaped some black pudding into small balls and friend them lightly in some oil. We topped them with spring onions and oyster sauce.
Pieces of smoked cheese, stilton and brie.
Fried off some prawns in chilli, garlic, spring onions and shallots.
Small florets of broccoli with stilton and black pepper.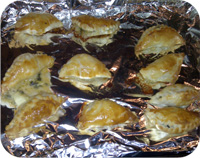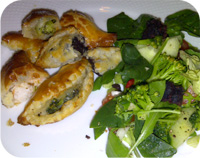 Search Cook Nights Recipes

Recipes by type:
Recipes by ingredients:
Recipes by Country: