Roast Duck Leg Wraps
We both adore duck and again this was an easy dish to make, giving us more time to chat as Babs would soon be jetting off on holiday.
We roasted two duck legs in the oven until the skin was crispy. We let it rest before shredding on a plate. We served it with warm tortillas, julienne cucumber and spring onions with a hoi sin sauce.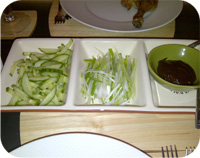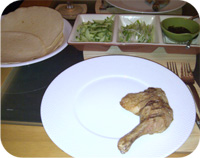 Search Cook Nights Recipes

Recipes by type:
Recipes by ingredients:
Recipes by Country: