Chorizo & Prawns Pasta Bake
We cooked some large penne pasta until al dente and set it aside to cool. We then fried some chorizo slices in olive oil and set aside. In the chorizo flavour oil we lightly fried some spring onions, sliced leeks and red chilli.
We made a tomato sauce using passata, finely chopped onion, some fresh basil and some red chilli and let it reduce.
We lined the bottom of a dish with the pasta and spooned over the chorizo, leeks and spring onions mixture. We then layered over some raw jumbo king prawns before topping of with the rich tomato sauce.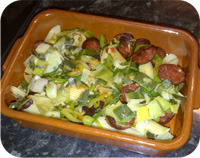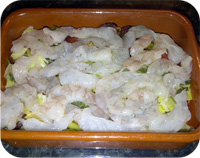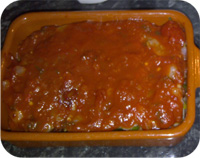 We then baked it in the oven for 40-45 mins.