Broccoli Pakora and Spiced Onions
The pakora batter was gram flour, salt, chilli flakes and yoghurt mixed until smooth. We rested the batter for about an hour.
We then blanched some broccoli florets and let them cool.
We bought some spiced onions, (we will try making them ourselves, we promise). And to dip in them we made fresh prawn crackers. These little clear discs are great fun and so simple to make. You just pop a few at a time into the deep fryer until they puff up. Then drain them thoroughly on kitchen paper.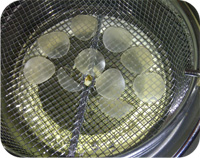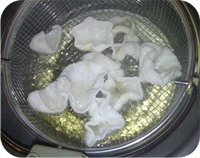 When ready to serve we dipped the broccoli florets in the batter and deep fried them for 1-2 mins. Yummy starter for our !